Poor traits

THE POUT
Anonymous
12" x 9" , oil on canvas board
Purchased by her mother at a yard sale in Washington, DC in the 1970's
and donated by Bobbie Franco
April 2014
The artist made some interesting choices depicting the anatomic proportions as well as the demeanor of the young woman in this little portrait.


THE DANCE OF FAMILY RELATIONS
Jake? (illegible), June 2003
36" x 48", oil on canvas
Rescued from trash in Brooklyn, NY and
donated by Louis Frank
June, 2009
Nine older people surround a long, coffin-like table, seemingly about to enjoy a meal. Most of them are gaze directly at the viewer, while one couple shares a private joke. Two of the figures are out of out of focus, possibly indicating that they are deceased. A negative-space silhouette feast before them lacks detail. Images of of cell division (mitosis) are interspersed with representations of Doc Edgerton's iconic strobe photos of a bullet shattering a light bulb along the top of the painting, and likenesses of his "milk drop coronet" strobe photos line the bottom.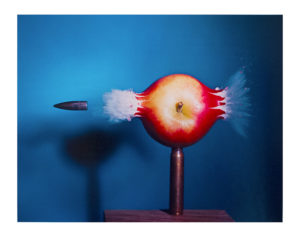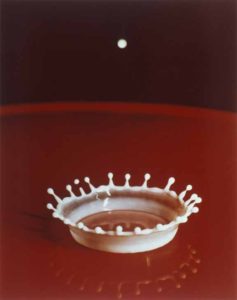 The over-the-top imagery, combined with the painting's title (written on the back of the canvas), seem to illustrate Albert Einstein's assertion that "time is relative".


PINK WOMAN ASCENDING
Anonymous
24" x 18", oil on canvas
Purchased at a thrift store in Boston, MA
October 2010


A monochrome pink woman inexplicably ascends from a wheat field,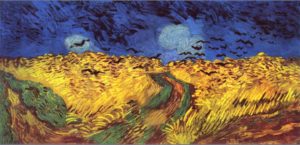 surrounded by irises,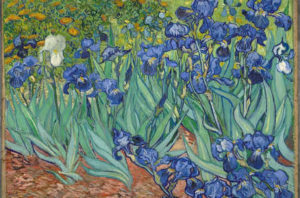 under a starry night sky.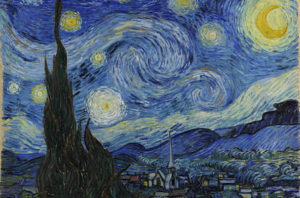 WELCOME TO THE NEW WORLD
Anonymous
20" x 16", oil on canvas
Purchased at a thrift store/tattoo removal center in Downey, CA and
donated by Brian Dishon
December 2010
MOBA #518
An Aztec emperor (possibly Montezuma) introduces the no-look high-five to a new friend who, judging from his suntan, has only recently arrived in the tropics. It is interesting to note that, while they come from disparate cultures, both men wear their pants in the "sagging" style currently in fashion among young men in many urban centers.


THE ROSE CEREMONY
Erinn McCusker
16" x 12", oil on canvas board
Purchased in a thrift store in Boston, MA
July 2016
The bachelorette looked particularly fetching as the strap of her peignoir slipped down her particularly long left arm.


NO PLACE LIKE HOME
Anonymous
20"x 10", oil on canvas
Purchased at a thrift store in Boston, MA
September 2010
MOBA #516


Dorothy clicked her heels three times and realized immediately upon opening her eyes that she had returned to an unfamiliar part of Kansas.


BLUE MUSHROOM MAN
Matthew Johnson
36" x 24", acrylic on canvas
purchased at a thrift store in Boston, MA November 2007
MOBA #444
According to a mycologist friend of MOBA, "Possible chanterelle in upper left corner. Likely boletus family 'shrooms in upper right corner and sprouting out of the top of his head. A flush of shaggy manes emerging from his mouth. Others are unknown, but appear to have little culinary interest."


SWAMP PICNIC
Ted Cate Jr.
21" x 30", oil on art board
Donated by Bhavani Brown
May 2014
An attractive couple enjoys a private moment at the water's edge. The artist seems to be sharing his vision of a dystopian future in which fashion conscious hipsters, living with rising sea levels and widespread pollution, wear "his and her" hazmat suits.

A MARIACHI IN TIANANMEN SQUARE
Anonymous
8"x10", oil on canvas
Purchased in a thrift shop in Boston, MA
January 2004
Beijing, China was rocked by unprecendented political protests as well as violent government response May and June of 1989. On June 5, as a column of tanks rumbled by Tiananmen Square, an unidentified man strode into the center of Changan Avenue. Armed only with shopping bags, he defiantly stood in front of the tanks; forcing them to stop.

Associated Press photographer Jeff Widener photographed the incident. His film was was smuggled out of China, and the image published around the world. The anonymous Tank Man of Tiananmen Square instantly became a hero of the protest, and the iconic photograph of his brave act was obviously the inspiration for this painting.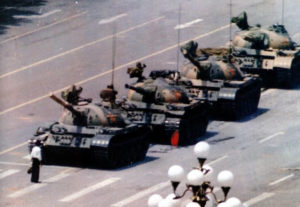 The anonymous artist added color and, more importantly, changed the perspective to emphasize the relative power of the man over the toy-like military machines.
His mariachi costume may indicate the universality of the struggle against oppression worldwide.


THE ROYAL FEEL
Jane Doyle
24" x 18", acrylic on canvas board
Donated by Cathy Soderquist
July 2013
The artist celebrates romantic love in this painting inspired by a painting by Rembrandt.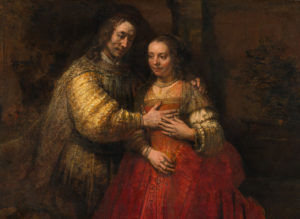 MORNING GEISHA
Anonymous
18" x 14", oil on canvas board
Purchased at a thrift shop in Boston MA
May 2015
A young woman performs her morning ablutions, illustrating the fact that, while the result may only be skin deep, it takes work to achieve beauty.


THE DEATH OF MARAT
David Santa Fe
24" x 18", oil on canvas
Purchased in Havana, Cuba
November 2011
This painting was obviously inspired by Jacques-Louis David's depiction of the death of Jean-Paul Marat, a scientist and physician who became a radical journalist and leader of the Jacobins during the French Revolution. He suffered from a painful skin disease and sought relief by spending hours soaking in his bathtub. On July 13, 1793, a young woman named Charlotte Corday requested a meeting with Monsieur Marat in his bathroom/office, and proceeded to stab him with a large kitchen knife.
While Mademoiselle Corday does not appear in David's painting, she can be seen glaring at her dying victim from behind the curtain in this painting. Rather than a messy pool of blood, his life leaves his body as steam from a tiny wound like the exhaust from a whale's blowhole. Marat is inexplicably depicted small enough to bathe in a coconut shell; dwarfed by the fruit and machete on the tabletop.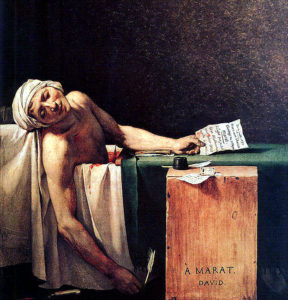 ORANGE COLORED SKY
Anonymous
24" x 18", acrylic on canvas
Purchased at a thrift store in Boston, MA
October 2012
MOBA #552
A nondescript everyman reaches forward, trying to touch, grasp, and become one with the expanse of orangeness around him.

The artist was clearly influenced by the color field paintings of Barnett Newman, and decided to add the representational element they so sorely needed.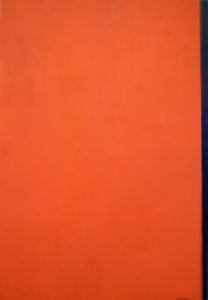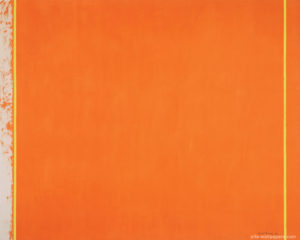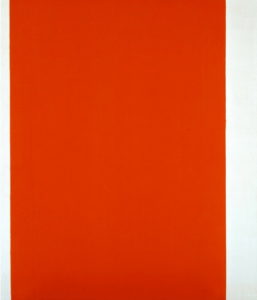 THE MILKMAID
Illegible
12"x16", oil on canvas
Purchased at a thrift store in Boston, MA
March, 2011
Apparently fond of the domestic worker in Jan Johannes Vermeer's seventeenth century painting DE MELKMEID, the artist chose to brighten her austere work environment with a lovely bouquet of flowers.


TOO FAT PEOPLE
Leger Vilfort
29" x 39", acrylic on canvas
Purchased at a thrift store in Boston, MA,
July, 2008
The brightly autumnal forest of minuscule bonsai trees in the background perfectly match the hues of the couple's casual attire.
Probably influenced by Peter Paul Rubens' "Reubenesque women" and Fernando Botero's "inflated images", Leger Vilfort paints a portrait of rotund lovers with impossibly tiny feet sharing a private moment in which they shyly avoid direct eye contact.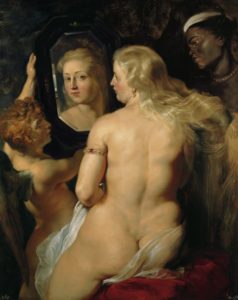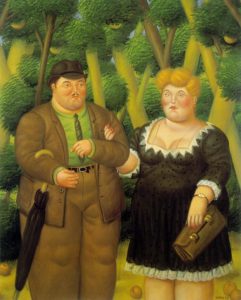 MOBA is in possession of a related work by this artist.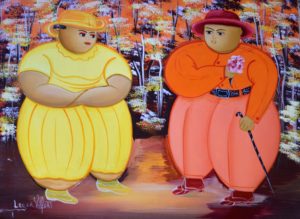 TOO MORE FAT PEOPLE
Leger Vilfort
11.75" x 16", acrylic on canvas
Purchased at a thrift shop in Amherst, MA and
donated by Mary Glavin
July 2015


This endearing portrait of corpulent lovers may be a study for a larger painting in the MOBA collection – TOO FAT PEOPLE.
In this version, the artist used a different straight-from-the-tube autumnal color scheme, reversed the positions of the sweethearts, and portrayed them standing rather than sitting.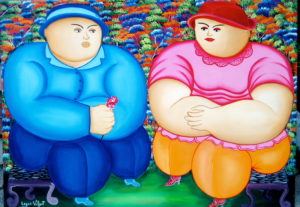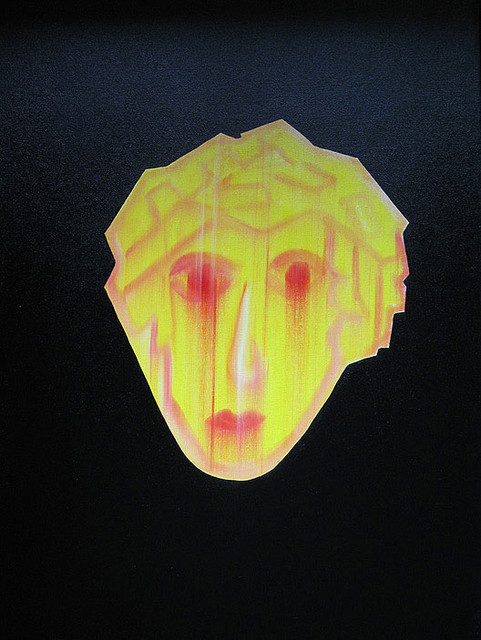 AIM 2
Lloyd Graham (Australia, 2006)
18" x 24", oil on canvas
Donated by the artist
April 2007
MOBA #372


"[This is my] partner Lyn, losing the battle with the middle objective of her research grant proposal (something to do with cross-talk between insulin-like growth factor binding proteins and retinoid-X receptor heterodimerization, since you ask)." - Text by the artist

From:
Museum of Bad Art: Masterworks

, by Michael Frank and Louise Reilly Sacco, Ten Speed Press.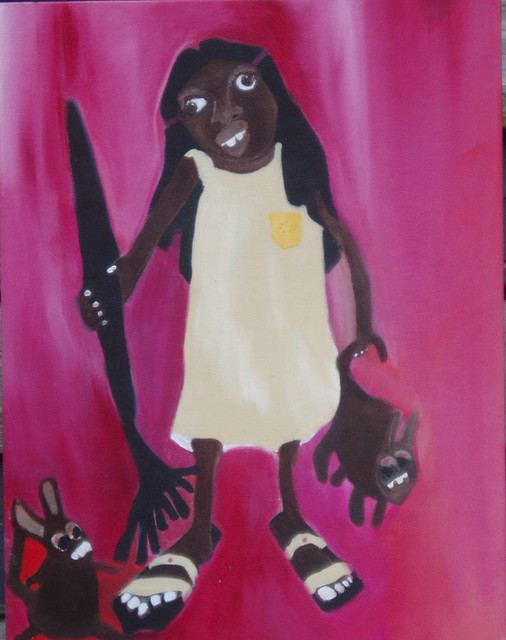 ANNIE'S DOWNSTAIRS SECRET
Professor Kendall Moore
18" x 14" acrylic on canvas panel
Donated by Doug Shive
September 2006
MOBA #335

Impressed by how well they worked on her pets' and her own teeth, Annie used Crest Whitestrips to brighten her toenails.

From - Museum of Bad Art: Masterworks, by Michael Frank and Louise Reilly Sacco, Ten Speed Press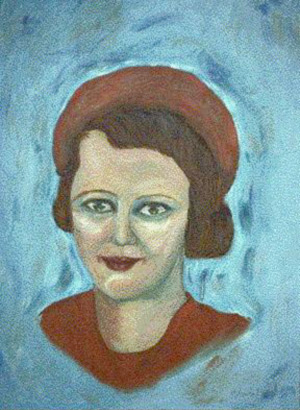 EILEEN
R. Angelo Le
18" x 24", Acrylic on canvas
Rescued from trash in Boston, MA
mid 1994
Remarkable in its simplicity, this passionate portrait of a girl with green eyes appeals every emotion. Which passion was uppermost in the painter's heart? Knife stroke follows brush stroke. The hint of a second signature in the top right corner suggests a struggle. An infinitely interesting and sometimes disturbing neo-primitive portrait. 
Although not apparent here, the painting has what appears be a knife slash in the canvas -- adding an additional element of drama an already powerful work.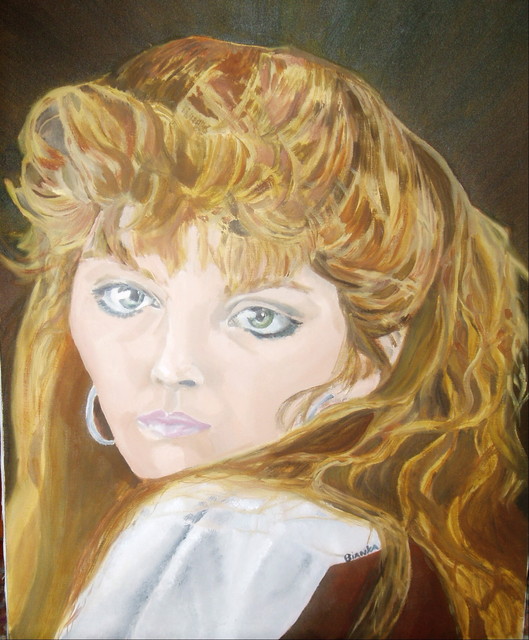 HEATHER COME HITHER
Bianka
30" x 24", oil on canvas
Salvaged by M. Frank from curbside trash in Boston
May 2006
MOBA #280

Larger than life, she purrs with her big bedroom eyes open wide in anticipation, "Hello boys". Bianka knew, the more hair the better.

From -
Museum of Bad Art: Masterworks

, by Michael Frank and Louise Reilly Sacco, Ten Speed Press.


HOLLYWOOD LIPS
Anonymous
15" x 12" , oil on cardboard
Purchased at a thrift store in Boston, MA
September 2006
MOBA #343

In Hollywood, even the palm trees have had work done.

From -
Museum of Bad Art: Masterworks

, by Michael Frank and Louise Reilly Sacco, Ten Speed Press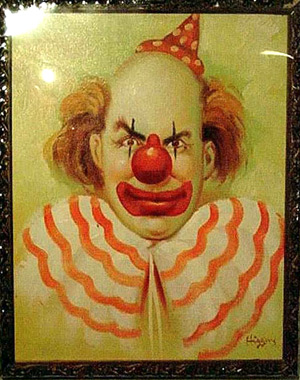 JEREZ THE CLOWN
Higgins
Acrylic on canvas
Acquired from Todd Farm Flea Market
1995


A perfect depiction of pure evil in the guise of childhood's friend. This blending of big top themes with a piercing study of the dark side of human nature, elevates the well worn clown genre to a new and exhilarating level.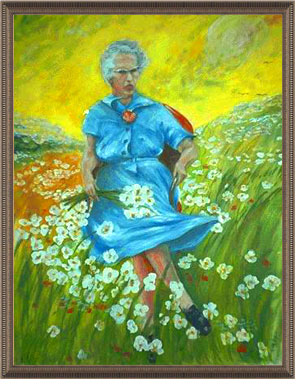 LUCY IN THE SKY WITH FLOWERS
Unknown
24" x 30", oil on canvas
Rescued from trash in Boston
MOBA #1
The motion, the chair, the sway of her breast, the subtle hues of the sky, the expression on her face -- every detail combines to create this transcendent and compelling portrait, every detail cries out "masterpiece."


This painting planted the seed that grew into MOBA. Upon seeing this painting of her grandmother in a local newspaper, Susan Lawlor contacted the Museum with detailed information about its provenance. Anna Lally Keane lived with her daughter Eileen (Ms. Lawlor's aunt) for much of her adult life. Anna Keane died in her 70's sometime around 1968. A year or two later, Ms Lawlor's mother dug out two photos of Anna Lally Keane and sent them to an artist, and commissioned a painting. The painting was to be a present to her sister Eileen.
The day that the painting arrived wrapped in paper. Everyone gathered around to watch as the paper was torn off; the thirteen year old Susan bit her lip to keep from gasping. It was a wonderfully accurate likeness of her grandmother's face in an oddly postured and formed body against a bizarre, surreal background.
Her mother, who commissioned the painting, was quite pleased with the result and gave it to her sister Eileen. The painting hung in Eileen's house for many years. Ms. Lawlor and her siblings have strong memories of the strange portrait hung in Eileen's living room.
Before the house was put on the market, a cousin hired an estate clearance company to make the property ready for sale. Sometime later, Ms Lawlor asked her mother what ever became of the portrait -- no one seemed to know. The family assumed the painting was either discarded in the trash, or possibly sold. As it turned out, someone in Roslindale, MA acquired the painting, hung on to it for 5 years or so and then disposed of it in the trash. Scott Wilson, MOBA's original Esteemed Curator, spotted the painting, pulled it from the trash, and MOBA was born.
Ms. Lawlor was obviously moved upon seeing the stunning portrait of her grandmother again and is thrilled that MOBA rescued the painting from certain destruction. enrolled as a charter Friend Of MOBA and attended MOBA's Gallery In The Woods on Aug 26, where her grandmother was proudly hung from the pine trees of Cape Cod.
MOBA welcomes Ms. Lawlor to the Friends Of MOBA, and is eternally grateful for filling us in on the fascinating background of the museum's most valued paintings.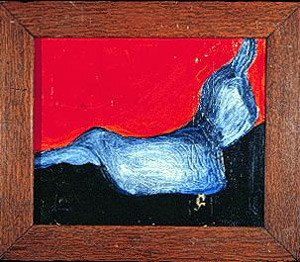 RECLINING NUDE
Unknown
Oil on canvas
Acquired from trash
late 1990s


The artist plays with the luminosity of skin where the sun never shines, and the grace and comfort of crossed legs in repose. We believe this may be a self-portrait, as Unknown, naked and proud, faces the fiery furnace.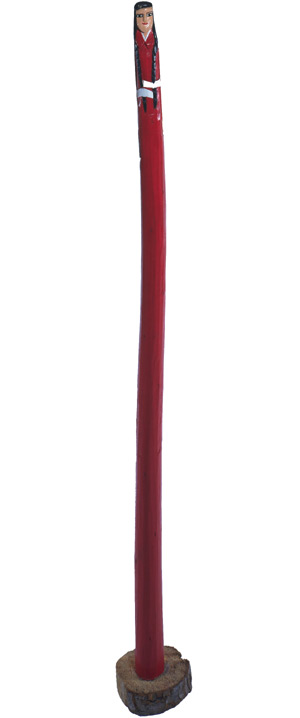 RED FIGURE WITH BRAIDS
Carlos Rangel
42" x 5" circumference, Painted wood sculpture
Acquired from Boston Thrift Store by Scott Wilson

A monument to self-confidence. The delicately balanced tiny figure stands tall, leaning towards us in cardinal colors, her pocketbook held proudly at her side. Could this be the ancestor of a late night television show host?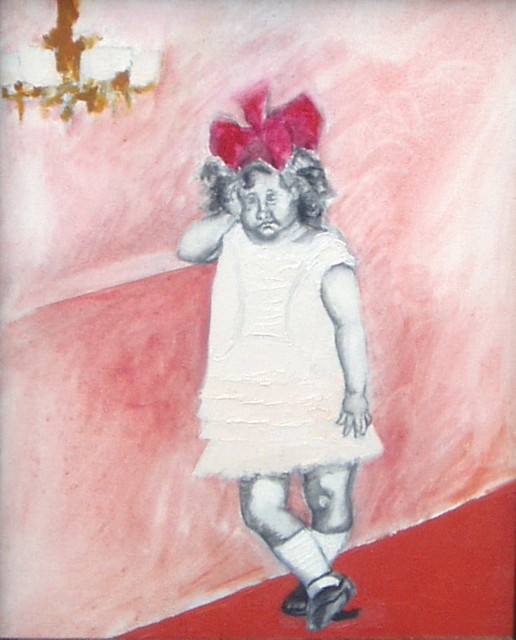 SAD BABY
Anonymous
16" x 20", oil on canvas
Purchased at a thrift store in Boston, MA
May 2006
MOBA #259


Lost puppy? No one to play with? Nothing on TV? What sad fate has befallen this young beauty with the big red bow? Her life is so empty she must conjure an imaginary shelf on which to lean.

From - Museum of Bad Art: Masterworks by Michael Frank and Louise Reilly Sacco, Ten Speed Press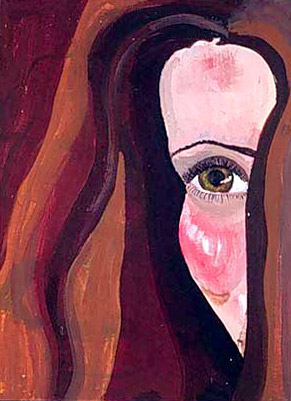 SHY GLANCE
Dawn Marie Jingagian
18" x 24", Acrylic on canvas
Rescued from trash in Boston, MA
1990s


The embarrassment and longing of first love, is reflected in the cheek as shiny as an apple, the half smile hidden behind lank hair.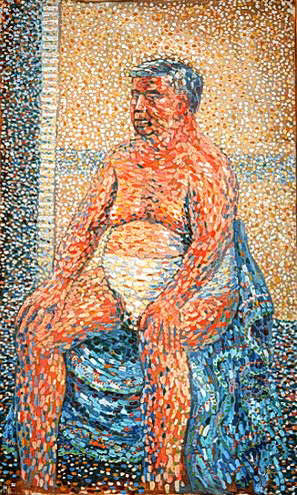 SUNDAY ON THE POT WITH GEORGE
John Gedraitis
22" x 37", Acrylic on Canvas
Donated by Jim Schulman
MOBA # 2

Can the swirling steam melt away the huge weight of George's corporate responsibilities?

A fine example of labor intensive pointlessism, this painting is curious for the artist's meticulous attention to fine detail such as the stitching around the edge of the towel, in contrast to the almost careless disregard for the subject's feet.

EXERPT FROM THE MOBA NEWS, ISSUE #28
The following note was received from Jim Shulman, donor of this MOBA masterpiece:

"In a sense, Sunday on the Pot With George takes a far more prominent place in my life than ever before. A friend mentioned that The Masterpiece appeared on the CBS Morning News. I asked him how he could tell: he said that George was the single most memorable artistic experience in his life -- a bit like his recent bout with the shingles -- and left an indelible impression.

"I never thought that all this fuss would take place over my modest bequest. Well, as Margaret Trudeau once said 'Some are born great, and others have greatness thrust into them.'"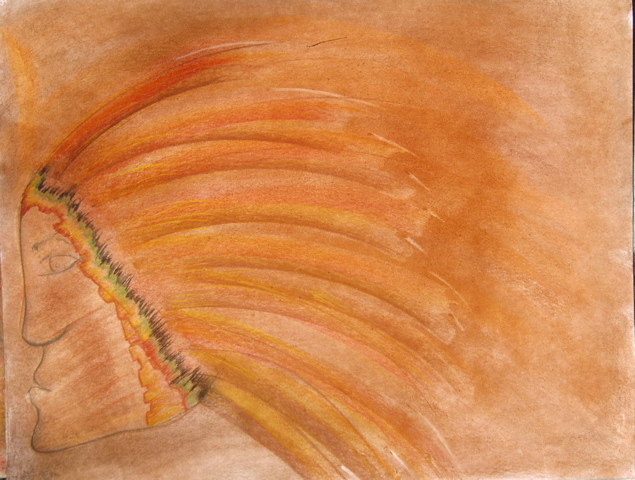 CHIEF PONTIAC
Pastel on paper


Found among some quasi-Egyptian art, this portrait bears an uncanny resemblance to Chief Pontiac, or at least to the image of him portrayed in a 1950 Pontiac Chieftain hood ornament: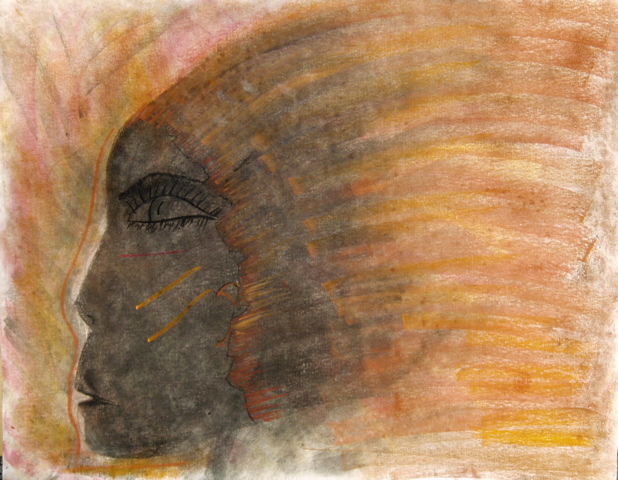 Mrs. Pontiac
Pastel on paper


Chief Pontiac's lovely Nubian wife.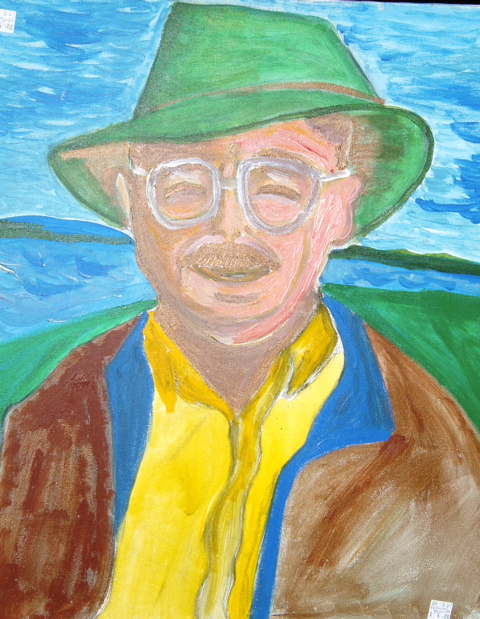 Eileen's Uncle Phil
by Anonymous
16" x 20"
Oil on Canvas
Purchased at a thrift store in Boston, MA
May 2007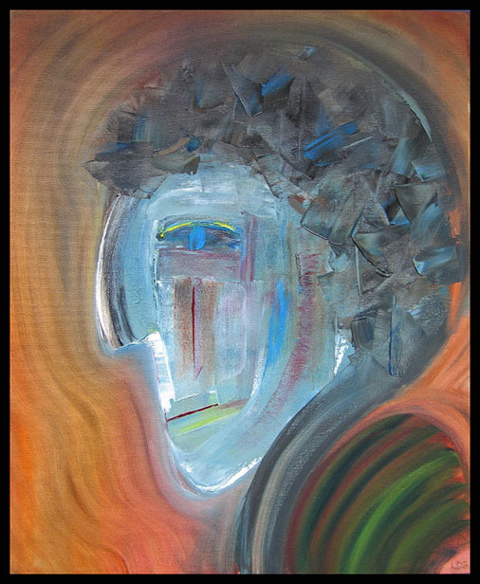 PORTRAIT OF THE ARTIST AS A YOUNG MAN
Lloyd Graham
20" x 16"
Oil on canvas
Donated by the artist (Australia)
April 2007


This is an emotive portrait of myself as a college student in the late 70s.


BAILANDO
Rosalyn Frederick, 1994
20" x 16" oil on canvas
Purchased at a thrift store, Boston, MA
September 2009
Watch the MOBA Curator Talk about this painting.
The artist celebrates the joy of social dancing in this delightful depiction of an embracing Mexican couple. This work is a cross-cultural homage to the important trio of paintings by French impressionist Pierre Aguste Renoir made in 1883: DANCE AT BOUGIVAL (1883), DANCE IN THE COUNTRY (1883), and DANCE IN THE CITY (1883),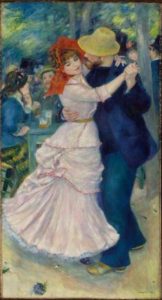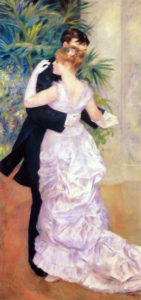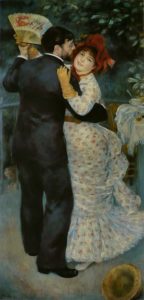 QUEEN OF THE CHOCOLATE CHIP
Christian
24" x 24", watercolor on paper
Acquired at a yard sale
MOBA #180


This is a commentary on the incongruity of royalism at the close of the second millennium. The formality of the pose contrasts with the laissex faire attitude of Her Majesty, caught mid chew, as she sports a jaunty beret in preference to her emerald encrusted crown.

Watch the MOBA Curator Talk about this painting.
QUEEN OF THE CHOCOLATE CHIP was probably inspired by an 18th century painting by Louis de Silvestre (1675–1760)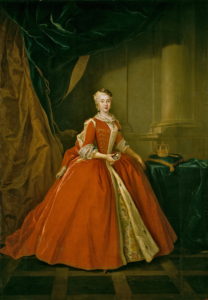 From:
Museum of Bad Art: Masterworks

, by Michael Frank and Louise Reilly Sacco, Ten Speed Press


KEY MAN
Anonymous
18" x 14", oil paint, keys, and found objects on canvas board
Anonymous donation
June 2007


This may be a resident of Key West.


MISS LONELYHEART
Illegible
20" x 16", oil on canvas
Purchased by thrift store in Boston, MA
October 2010
MOBA #485
Vaguely aware of the other patrons behind her, an attractive slim woman with very long legs sits with her glass of red wine and single rose at a table for one featuring a large bouquet of flowers, wondering when love will arrive.



EYE WISH EYE WERE AN OSCAR MEYER WEINER
Anonymous
48" x 14", oil on canvas
Purchased at the Brimfield, MA Antique Fair and
donated by Cindi Chapman
December 2009
This monochrome portrait of a young boy, repellent and yet compelling, is fraught with unanswerable questions. Where is his right big toe, does he have a right hand, and why is he portrayed wearing nothing but a short sleeve shirt that is obviously too small to fit over his belly; seemingly swollen in an unlikely pregnancy?


MUJERES Y PUROS HERMOSOS
Anonymous
13" x 17", acrylic on canvas
Purchased at a souvenir market in Havana, Cuba
November 2009


The Curator-in-Chief descended from the MOBA Ivory Tower to visit Havana and purchased this painting in a souvenir market for his personal collection. He understands that this celebration of Cuba's fine cigars and beautiful women is a commercial product and, therefore, not really appropriate for the MOBA collection, but believes it is compelling enough to share with MOBA fans who have not had the opportunity to visit the island nation.




WHY THE LONG FACE?
Sixten Borg (2015)
12.5" x 9", acrylic on panel
Donated by the artist
November 2017
When asked about the apparent distortion of his countenance in this self-portrait, the artist provided a detailed explanation involving a mirror leaning on a bowl. He added that his life was a bit of a struggle at the time, accounting for his gloomy appearance. He assures us that "Things are better now."


BABY DOLLS
Dee Landerman, 2005
20" x 16", oil on canvas
Donated by John Rankine
April 2014
This portrait was donated to the MOBA Collection by the subject, who was inexplicably relegated to the background like a watermark. The yellowing varnish on the paint surface enhances the eldritch nature of the image.


FLYING FORKS
Illegible
36" x 46", acrylic on canvas
Rescued from trash in Brighton, MA and
donated by Eliot Jackson and Stacy Sylvain
February 2011
We see young man and young woman sitting face to face in a vaguely defined outdoor setting; the viewer's prospective is ¾ behind the man. Seemingly oblivious to whatever is going on above and behind her, the woman seems concerned about the mental state of her partner, who maintains a death grip on a dismembered steering wheel. While the significance of the cross in the background is unclear, this painting seems to be visual representation of Yogi Berra's advice, "When you're driving an imaginary car and you see a flying fork, take it."


THE DRIP
Anonymous
18"x18", oil on canvas
Purchased at a yard sale in Salisbury, MA
and donated by Rick Nelson
May 2012
MOBA #491
The artist scratched the orange background paint with a sharp object to reinforce the violence of this image of an armless raven-haired woman in a white dress sitting on a barstool with blood dripping from a bullet wound between her scapulae. Somehow she remains upright.


ELIAN GONZALEZ' GRANDMOTHERS
Gisela Keller, 1973
18" x 24", oil on canvas
on loan from the collection of Curator-in-Chief Mike Frank
MOBA #193
Lush tropical foliage that dwarfs the tiny grandmothers and brilliant colors demand the viewer's attention. Painting almost 30 years before the fact, the visionary artist depicts the boy-hero's grandmothers' return from visiting him in Miami to their native Cuba, where the tropical plants are muy grande.
From:
Museum of Bad Art: Masterworks

, by Michael Frank and Louise Reilly Sacco