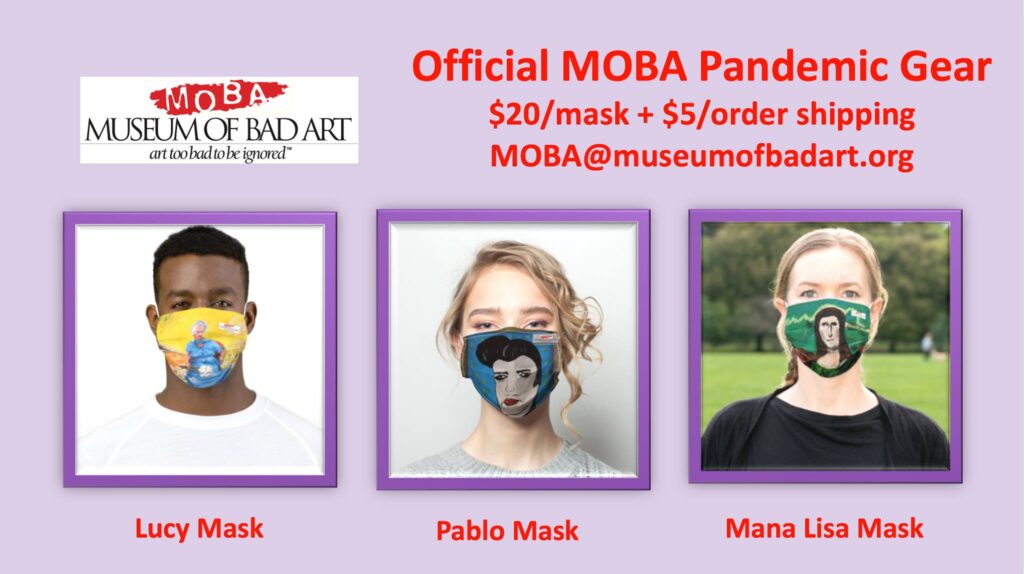 The masks are $20/mask + $5/shipping (no matter how many you order). To order your masks, click on www.museumofbadart.org/donate and make the appropriate donation via PayPal (1 = $25, 2 = $45, 3 = $65, etc.).
LUCY IN THE FIELD WITH FLOWERS
Anonymous
This single painting was the seed that grew into MOBA. The motion, the chair, the sway of her breast, the subtle hues of the sky, the expression on her face–every detail combines to create this transcendent and compelling portrait.
. . . This is the painting that started it all and led to the founding of MOBA.


PABLO PRESLEY
Bonnie Daly
A refreshing multi-cultural treatment of one of the 20th century's most beloved icons.


MANA LISA
Andrea Schmidt, Vancouver Canada
This is a cross-gendered interpretation of the Leonardo da Vinci classic. Mana Lisa's nose is critical to the composition, offsetting the dialogue between the foreground and the profoundly varnished background.