MOBA Curator Talks
Can Come to You!
Virtual MOBA Curator Talks are available to businesses, libraries, senior centers, museums, community groups, or anywhere that people are hungry for something new and interesting. We offer five programs: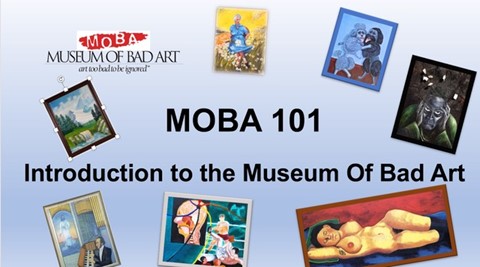 MOBA 101: Introduction to the Museum Of Bad Art
MOBA collects, exhibits, and celebrates art that will be seen in no other venue. We interpret the art, compare it to classic art, and share the adventure of building MOBA to a worldwide phenomenon. This is art too bad to be ignored!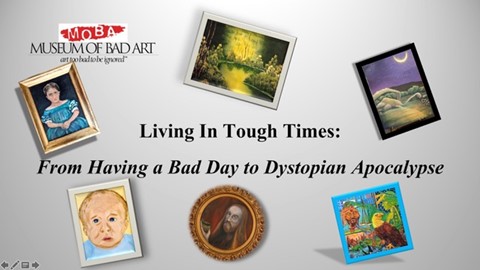 Museum Of Bad Art: Tough Times – Having a Bad Day to Dystopian Apocalypse
Art has always helped get us through difficult times. MOBA explores some of the ways our artists react to small and large, real and imagined, disasters.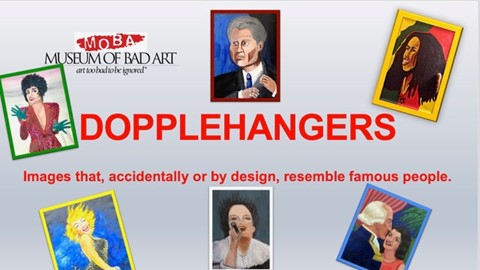 DOPPLEHANGERS
An examination of paintings from the MOBA Collection that, accidently or by design, resemble famous people.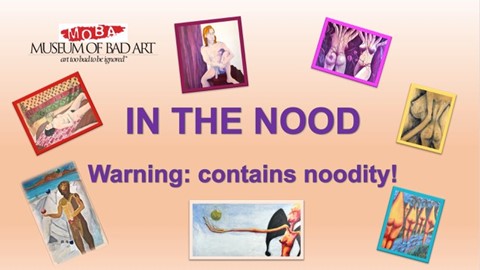 IN THE NOOD
Consistent with other major museums, the MOBA Collection contains works celebrating the human form. It is not obvious, however, that all the artists have actually seen a naked person.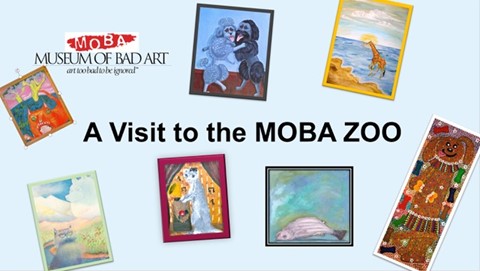 A VISIT TO THE MOBA ZOO
An examination of works from the MOBA Collection featuring our furry, feathered, and fishy friends.
MOBA's Curator-in-Chief or the Permanent Acting Interim Executive Director will Zoom MOBA art to your event. You can book one or more, even the whole series.
Each live, virtual MOBA program lasts 35-45 minutes, followed by an open Q&A. We schedule programs 7 days a week, any time of the day.
To learn more, please complete this form. We'll email details to you.