The Museum Of Bad Art (MOBA) is a community-based, not-for-profit institution dedicated to the collection, preservation, exhibition, and celebration of bad art in all its forms and in all its glory. MOBA was founded in the fa ll of 1993 and presented its first show in March 1994. The response was overwhelming. Since then, MOBA's collection and ambitions have grown exponentially.
Initially, MOBA was housed in the basement of a private home in Boston. This meager exhibition space limited the museum to be a regional cultural resource for the New England area.
As the only museum dedicated to bring the best bad art to the widest of audiences., we felt morally compelled to explore new, more creative ways of bringing this priceless collection of quality bad art to a global audience. MOBA's public gallery is located in the Dorchester Brewing Co, 1250 Massachusetts Ave, Boston, MA. MOBA opens every day at 11:30 and closes Sunday and Monday at 9pm, Tuesday through Thursday at 10pm, and Friday and Saturday at 11pm. Beer is available for sale and food is offered by M&M BBQ inside the brewery. NOTE: No one under 21 is admitted on Friday or Saturday nights after 6pm.
MOBA was an instant media success. In the early days, MOBA was celebrated in articles in the Wall Street Journal, Rolling Stone, Wired, the London Times, and many more publications around the world. Recently, attention from NPR, Smithsonian.com, Harvard Magazine and dozens of small and large media outlets continues to grow our audience.
We continue to connect with our fans through Facebook, MOBA News email, YouTube videos, this site, and MOBA books.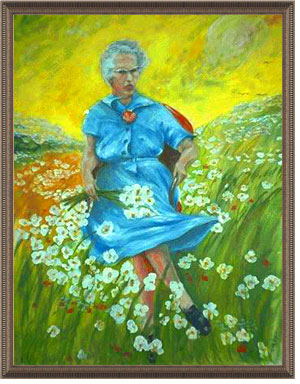 Lucy in the Field with Flowers
Oil on canvas by Unknown
Acquired from trash in Bostons
This single painting planted the seed that grew into MOBA. The motion, the chair, the sway of her breast, the subtle hues of the sky, the expression on her face--every detail combines to create this transcendent and compelling portrait
This painting was the inspiration for the founding of the Museum Of Bad Art.