The Sports Section

SAFE AT HOME
Anonymous
24" x 32", oil on canvas board
Anonymous donation
MOBA #292


The runner successfully avoids the catcher's tag at the plate, only to be swallowed by a mysterious fan. The viewer is left to wonder why the Red Sox player decided to return home from first base.

From - Museum of Bad Art: Masterworks, by Michael Frank and Louise Reilly Sacco, Ten Speed Press


CASEY AT THE BAT
Jeff Ashworth
20" x 16", oil on canvas
MOBA 290


Asymmetrical limbs and a flexible bat help this all-star develop tremendous torque at the plate. The spectators silently gaze, transfixed. Many of them may have also witnessed Christ's entry into Brussels.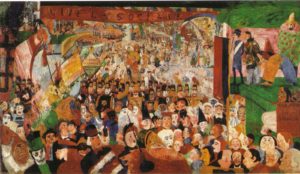 ARMLESS JOE (OPENING DAY)
Anonymous
30" x 15", acrylic on canvas panel
Donated by Lisa and Jim McClellan
December 2015
Number one-zero looks comfortable batting, quite possibly because, in his haste to begin the season, he stepped up to the plate wearing his comfy slippers.


THE SOUTHPAW
Anonymous
30" x 15", acrylic on canvas panel
Donated by Lisa and Jim McClellan
December, 2015


YOGA CLASS
Anonymous
20" x 30", acrylic on canvas
Found in his apartment building lobby in Somerville, MA and
donated by Ben Smith
July 2018
We see an unidentified woman achieving the rarely attempted downwardly-mobile pigeon pose.


BADMINTON ANYONE?
Anonymous
16"x12", oil on canvas
Purchased at a thrift store in Boston, MA
March, 2011

The genteel social elite in 18th and 19th Century Europe enjoyed playing badminton at lawn parties. The handsome woman depicted in this portrait probably inspired by the 1737 painting GIRL WITH SHUTTLECOCK, by Jean Baptiste Simeon, holds a birdie featuring colorful feathers and a surprisingly modern carbon fiber racquet probably more suited for The Championships of the All England Lawn Tennis Club at Wimbledon.

Girl with Shuttlecock
Jean Baptiste Simeon


While fashion of athletic clothing and jewelry have changed over time, athletic women continue to this day to enjoy racquet sports.

Serena Williams @ Wimbledon 2012


THEY MUST BE GIANTS
C. Charlf
24" x 16", acrylic on canvas
Anonymous donation

It is difficult to discern whether player #6 is about to dunk the ball or making a fine defensive rebound. In either case, the excitement of the moment seems to have caused him to lose control of his bodily functions.


THE ATHLETE
Anonymous
40" x 30", crayon and pencil on canvas
Rescued from trash in Boston, MA
1994
The discus thrower's pink mini toga, wing tip shoes, and white socks define athletic sartorial splendor.
This is probably the largest crayon on canvas pieces one can ever hope to see.


POINT OF IMPACT
Anna K.
20"x24", acrylic on canvas
Donated by Noah Sawyer
May, 2011
The artist uses faux hi-tech medical imagery, what appears to be a death mask, and a violent image of pugilists in action (based on George Bellows' 1924 painting of a match between Jack Dempsey and Luis Ángel Firpo) to illustrate the inherent danger confronting all the faceless athletes who engage in the "sweet science".
Watch the MOBA Curator Talk video about this work.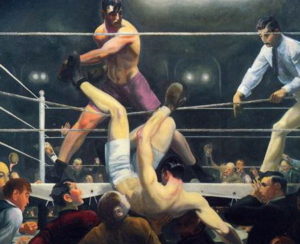 THE WEIGHTLIFTER
Tom W.
19" high. Fabric strips, plaster of paris, paint
Salvaged from curbside trash in Boston, MA
June, 2007
The artist celebrates the winning can-do spirit of athletes who, eschewing the advice of coaches, trainers, and chiropractors, accomplish impressive physical feats while using unbelievably poor technique.
From:
Museum of Bad Art: Masterworks

, by Michael Frank and Louise Reilly Sacco


FLIP FLOP, HOCKEY PUCK, TENNIS BALL, PURSE, AND NECKLACE
Anonymous
16" x 20", oil on canvas
Purchased at a thrift store in Boston, MA
October, 2010
MOBA #496
An unusual combination of sporting goods and fashion accessories provides the viewer a feast of color and texture.
The artist made an interesting attempt to make the canvas look like an enlarged 35mm contact print by painting a brown border containing fourteen white rectangles.


THE CHAMPION
Madison (2006)
24" x 18", acrylic on canvas board
Purchased in a thrift store in Boston, MA
August, 2018
Exhausted and dirty from combat, the victororious champion wears a garland of flowers and holds a matching bouquet in his right hand that is, strangely enough, at the end of his left arm